2021 Music of the Spheres Series Canceled
After much consideration, and the complex issues of health and safety for the public, staff, and volunteers of our Lick Observatory community, we have made the difficult decision to cancel this year's Music of the Spheres events.
In the meantime, Public Evening Tours and Photography Nights will resume in August. Tickets go on sale July 14th at Noon at ucsctickets.com.
Sign up to receive email communication about our events resumption and virtual programming by emailing social@ucolick.org.
Program
Our Music of the Spheres Concert series is held annually as part of our Summer Series. Each year we bring world musicians to the summit of Mount Hamilton for a musical night to remember.
Update 2021 June 29: Due to the COVID-19 situation and SCU fire recovery work, the 2021 Music of the Spheres series has been cancelled. Music of the Spheres tickets will not go on sale.
Tickets are sold through the UCSC Ticketing Website. Tickets are available for FoLO members starting Wednesday, May 6, 2020 at noon. Tickets are available for the general public starting Wednesday, May 13, 2020 at noon. Please email tickets@ucolick.org if you have questions.
Activities include:
A concert
Astronomy talk by world-renowned scientists
Viewing through the historic 36-inch Great Lick Refractor telescope
Viewing through the 40-inch Nickel Reflector telescope
Astronomy discussions with amateur astronomers with small telescopes

Please note: Weather may restrict telescope viewings, but other activities will still take place. Due to safety regulations and the nature of the event, children must be at least 12 years of age for admission and accompanied by an adult.
---
On Concert Evenings
Driving to Lick Observatory
Please allow a one-hour drive from San Jose. The road is good, but windy. The event typically lasts between 4 and 6 hours; prepare to drive home late in the evening. There are no automative services or gas stations for 20 miles, so please plan ahead. See more information on driving directions and parking here.
Recommended Attire
Casual, comfortable clothing and walking shoes. A sweater or light coat is recommended.
Safety
Please be careful when walking around in the dark outside; bringing a flashlight is recommended. Children under age 8 are not allowed at this event, and it may be unsuitable for children under the age of 12 due to late hours.
Telescopes
The large telescopes will be available for viewing as soon as the sky is dark. Telescopes will remain open until every guest has had an opportunity to see through both the 36-inch Great Refractor and the 40-inch Nickel Telescope.
In order to view through the telescopes, guests will receive a numbered pass at the door. Guests with the lowest telescope numbers are admitted to the telescopes first - so we recommend getting to the observatory early! Please note: Due to historic construction of the telescope domes, the 36-inch Refractor and the 40-inch Nickel Telescope are not wheelchair accessible at this time.
Volunteer amateur astronomers also set up small telescopes in the back parking so guests can view additional cosmic objects.
Gift Shop
Lick Observatory souvenirs and astronomy merchandise will be available for purchase between 7:30 to 11:30 p.m. You can also visit our Gift Shop online 24/7.

Refreshments
Snacks and beverages will be available near the Nickel Telescope. Vending machines and fountain water are also available.
Assistance
We strive to make your visit as complete and meaningful as possible. Please let us know if you will need special assistance (for example, if you will have difficulty climbing stairs), so we can make the necessary arrangements.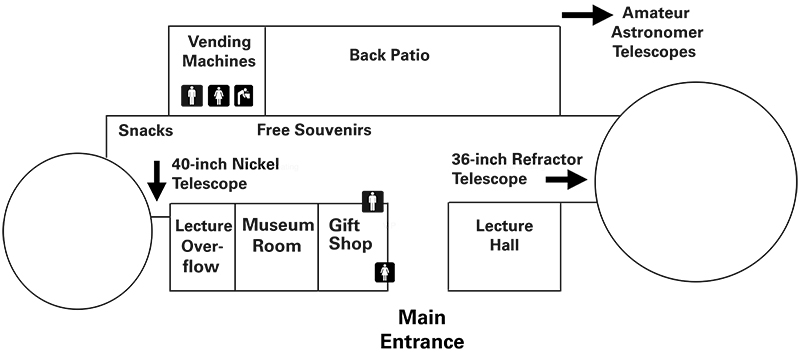 ---
More