August 10, 2019
8:00 p.m.
Performer: Folias Duo
Astronomy Speaker: Dr. Courtney Dressing, UC Berkeley
---
Concert Information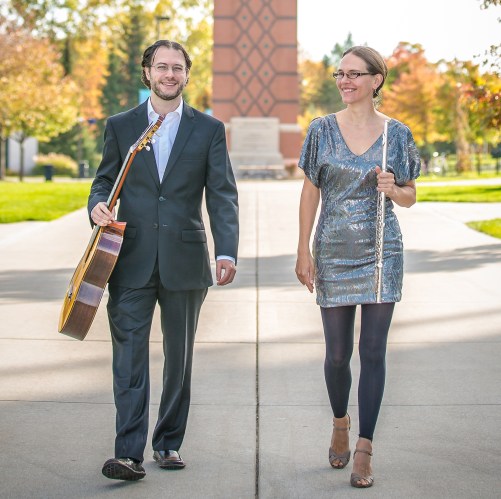 Folias Duo
Andrew Bergeron and Carmen Maret are performers, composers, educators and entrepreneurs from Grand Rapids, Michigan known for their work as the Folias Duo.
Folias Duo's fifteen year performer/composer collaboration has taken this nomadic husband and wife duo to stages throughout the United States and around the globe including Sweden, Denmark, Germany, Austria, Italy, Portugal, Argentina, and Chile. They have a fearless approach to developing new compositions for flute and guitar, an expertise for arrangements of Argentine tango, and a passion for South American folk, jazz and world music. About Folias's performing and composing, Robert Schulslaper of Fanfare Magazine writes: "Carmen Maret and Andrew Bergeron are facile players…they draw on tango rhythms and melodies sometimes; at other times they write with a scenic sensitivity…mysterious…charming…evocative," while Todd Gorman of American Record Guide calls the Folias Duo "daring in self- written music" and "a nice touch of originality."
Folias Duo's concert touring combines their versatility as composers, arrangers, and performers with their prowess for self management and promotion. Their self-booked 2018 summer tour includes twenty performances throughout the western United States, while recent Michigan performance highlights include the Scarab Club Chamber Music Series in Detroit who presented Folias' arrangement of Piazzolla'sAngel Suite for flute, guitar and string quartet and the Grand Rapids Art Museum Classical Series who presented a program of all original music and arrangements from their Dreaming to Live release. Textura magazine writes: "Maret's sinuous flute, alto flute, and piccolo playing is a constant delight, while Bergeron's deft finger-picking makes a strong impression. The purity of her tone and the unerring precision of his guitar work are an enticing combination."
Folias Duo has played their own golden era tango arrangements for milongas since 2002 in over forty tango communities throughout the United States, Chile and Argentina, including the Burning Tango Festival (2016, 2017, 2018), the A-B-QTango Festival (2018), the Albuquerque Tango Society, the Madison Tango Society, Esquina Tango Austin, Quantum Tango, Decir Tango, Wasatch Tango Club, Tango Berretín and at festivals such as the Fairbanks Summer Arts Festival, and the Atlin Music Festival.
Since 2005 Bergeron and Maret have operated Folias Music, their label and publishing company for original sheet music and album releases. Folias Music also hosts a podcast called Folias Music Live and a blog that documents the duo's relentless exploration of food and nature throughout the world.
---
Lecture Information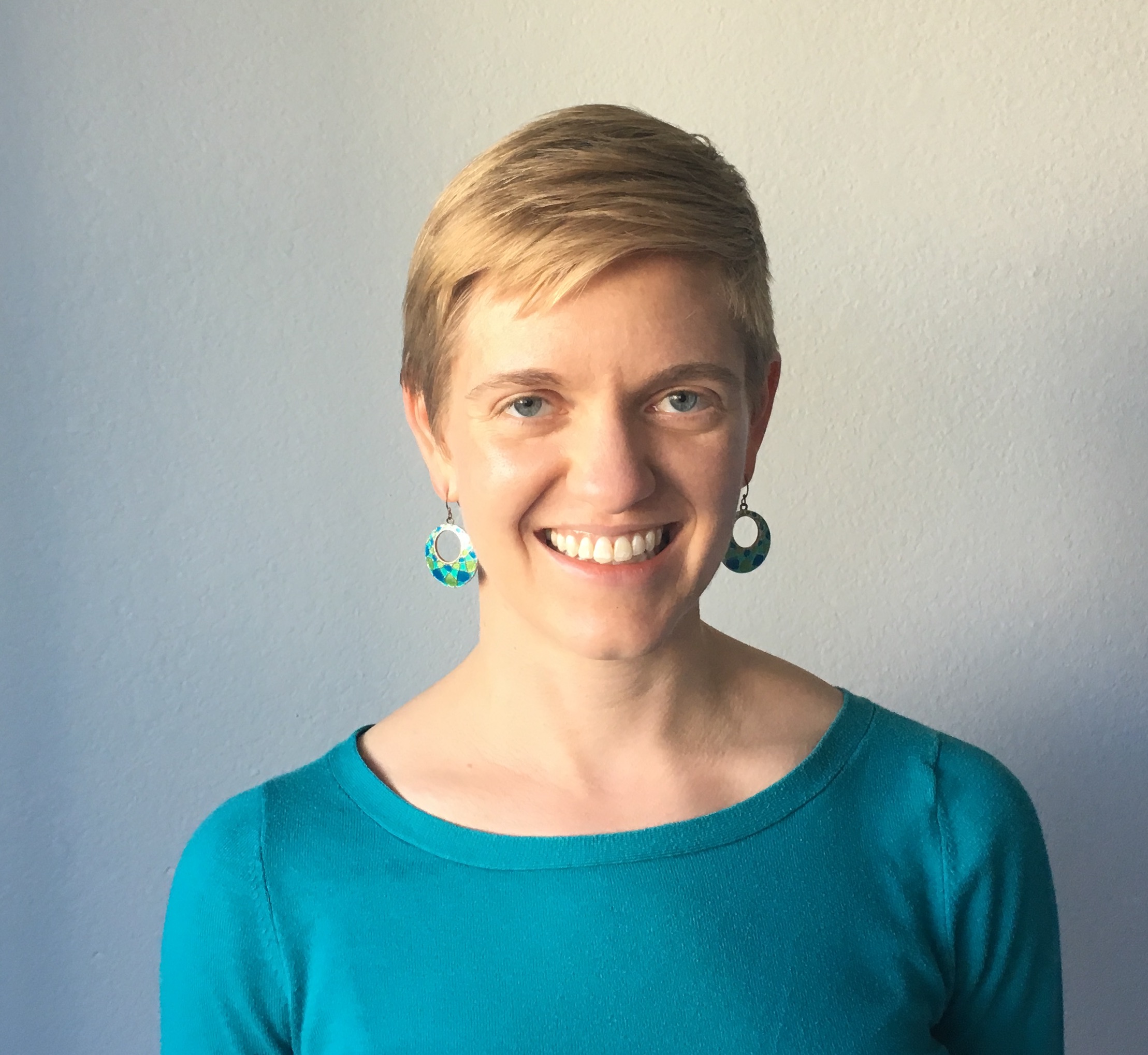 Dr. Courtney Dressing
Exploring Planets Orbiting Nearby Stars with the Transiting Exoplanet Survey Satellite and Lick Observatory
Courtney is an observational astronomer focused on detecting and characterizing planetary systems. Her research group uses telescopes on the ground (often at Lick Observatory!) and in space to search for planets, probe their atmospheres, measure their masses, and constrain their bulk compositions. She is curious about planet formation and evolution, the frequency of planetary systems in the Galaxy, and the prospects for detecting life on planets outside of our Solar System. Courtney is a member of the Target Selection and Follow-up Working Groups for the NASA Transiting Exoplanet Survey Satellite mission and the Science & Technology Definition Team for NASA's Large UV/Optical/Infrared Surveyor (LUVOIR) mission concept study. She was awarded a Sloan Research Fellowship in 2019 for becoming "a world leader in the search for other worlds." Courtney previously obtained a bachelor's degree in Astrophysical Sciences from Princeton University, earned a Ph.D. and A.M. in Astronomy & Astrophysics from Harvard University, and completed a NASA Sagan Fellowship at Caltech. She is currently an Assistant Professor in the Astronomy Department at UC Berkeley.
---
Ticket Information
Join Friends of Lick Observatory (FoLO) and Get Tickets Early
If you'd like to purchase tickets as early as noon on April 10th, 2019, join our Friends of Lick Observatory (FoLO) program by April 1st, 2019. As a thank you for supporting the observatory, you'll get special access to purchase tickets before they go on sale for the general public on April 17th at noon.
---
Ticket Packages
General Admission: $50

Ticket includes concert seating, astronomy lecture, view through the Great Refractor telescope, view through the Nickel Telescope and souvenir wine glass or mug.
Preferred Guest: $90
Ticket includes preferred concert seating, astronomy lecture, preferred viewing through the Great Refractor telescope, preferred viewing through the Nickel Telescope, souvenir wine glass or mug, 20% discount at the gift shop.
VIP: $199
Ticket includes private group tour of the Shane Telescope before the concert, catered buffet dinner in our historic Dining Hall, front center concert seating, astronomy lecture, priority viewing through the 36-inch Great Refractor, priority viewing through the 40-inch Nickel Telescope, souvenir wine glass or mug and 20% Discount at our gift shop.
---
More Ticket Information
Due to the historic construction of the telescope domes and safety concerns, the 36-inch Great Refractor Telescope and the 40-inch Nickel Telescope are not wheelchair accessible at this time. Those who have difficulty navigating stairs may also find the telescopes inaccessible. Funds are being raised through the Friends of Lick Observatory to repair the elevating floor of the Lick 36-inch telescope to re-enable handicap access.
Tickets are non-refundable. Limit of four tickets per customer. Please be advised that unpredictable weather patterns may restrict telescope viewings, though lectures, concerts and other activities will still take place.
Please note: Due to safety regulations and the nature of the event, children must be at least 12 years of age for admission and accompanied by an adult.

---
Program Information
| | | |
| --- | --- | --- |
| 7:00 p.m. | Doors Open | Brief Telescope Visits |
| 8:00 p.m. | Concert, Main Hall | |
| 9:00 p.m. | Science Talk, Lecture Hall | Telescope Viewings |
| 10:00 p.m. | Science Talk (repeated), Lecture Hall | Telescope Viewings |
| 12:30 a.m. | Doors Close | |
Driving to Lick Observatory
Please allow a one-hour drive from San Jose. The road is good, but windy. The event typically lasts between 4 and 6 hours; prepare to drive home late in the evening. There are no automative services or gas stations for 20 miles, so please plan ahead. See more information on driving directions and parking here.

Recommended Attire
Casual, comfortable clothing and walking shoes. A sweater or light coat is recommended.
Safety
Please be careful when walking around in the dark outside; bringing a flashlight is recommended. Children under the age of 12 are not allowed at this event.
Telescopes
The large telescopes will be available for viewing as soon as the sky is dark. Telescopes will remain open until every guest has had an opportunity to see through both the 36-inch Great Refractor and the 40-inch Nickel Telescope.
In order to view through the telescopes, guests will receive a numbered pass at the door. Guests with the lowest telescope numbers are admitted to the telescopes first - so we recommend getting to the observatory early! Please note: Due to historic construction of the telescope domes, the 36-inch Refractor and the 40-inch Nickel Telescope are not wheelchair accessible at this time.
Volunteer amateur astronomers also set up ground telescopes in the back parking so guests can view additional cosmic objects.
Gift Shop
Lick Observatory souvenirs and astronomy merchandise will be available for purchase between 7:00 to 11:30 p.m. You can also visit our Gift Shop online 24/7.
Refreshments
Snacks and beverages will be available near the Nickel Telescope. Vending machines and fountain water are also available.
Assistance
We strive to make your visit as complete and meaningful as possible. Please let us know if you will need special assistance (for example, if you will have difficulty climbing stairs), so we can make the necessary arrangements.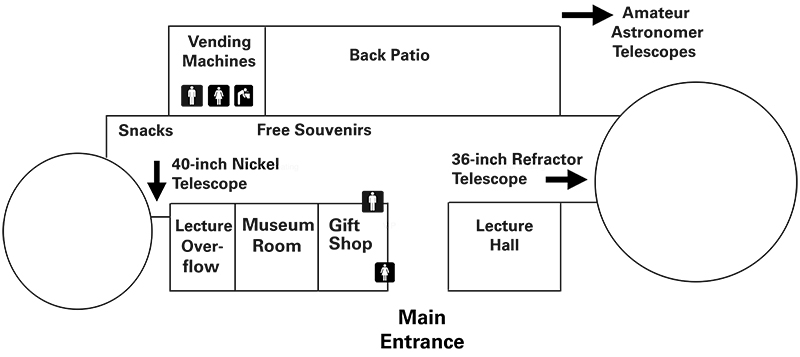 ---
Share Your Experience
If you attend an event make sure to tag us on Facebook, Instagram, Twitter!
Leave a review on Yelp here.